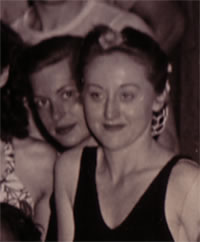 Rosalind Shaffer and Ruth Syndon
(Firebird, Hollywood Bowl)
Rosalind began studying dance with Mr. Bolm at the age of 9, and continued until he died in 1951. She told me:
"I taught dance in Long Beach college so my son Arthur could have fencing classes with Ralph Faulkner, and I stayed the weekend with Mrs. Bolm. Mrs. Bolm would tell me all these things about how it was when she was first married, how her parents were, how it was in the Court of the Czar where her parents sent her as a young woman. She told me how she and Mr. Bolm met, got married, and had Olaf.
And I kept wishing I had a tape recorder, which I eventually bought, and I recorded some of these things. After she died alot of the people we talked about that were around her I looked up, and I went to visit and talked with them.
That's when I was starting to teach Dance History at Long Beach State College. It never occurred to me before then that Dance History existed. I think I got interested when I was 14 in Mr. Bolm's class.
You're suppposed to get higher in second position which was anguishing. And then it's supposed to get higher here, which is torture. And I was in great pain, and Mr. Bolm was walking along the line of us doing the exercise. And I said, panting, "Mr. Bolm, who invented this?!" And he said, "Well, it came from the Courts of Love." And I knew I couldn't ask any more questions about that.
But when I was in Italy with Lottie I discovered something about what the Courts of Love were. And when I went back to school to get my Masters Degree, I decided that would be my dissertation. And I did a demonstration as well as lecture, where I demonstrated the different phases of the progress of the form, from Italy to France, and eventually to Russia.
The thing was, so now I was in school and I was doing this thing, I guess I had gotten divorced, how was I going to support my kids? But there were two or three teachers at USC, Dr. Ellfeldt, she was my particular teacher at USC, but there were two others that were important. I remember the major one's friend was Dr. Mott. The one whose name I can't remember right now was the head of dance in Texas."
Note: Rosalind also worked with Carmelita Maracci, Eugene Loring, and toured with Lottie Goslar. She partnered with David Lober, and they remained lifelong friends. She participated in films with David Lichine. She taught dance at Smith College until she retired in 1984.
After a full life, Rosalind passed away quietly in Hollywood, California in February 2009 with her loving son Arthur and friends nearby.
It was Rosalind who inspired me to create this website. She wanted to further Mr. Bolm's legacy. She also had an idea that people who had either known Mr. Bolm, or dancers who had studied within the lineage of Mr. Bolm's teaching, or people who had been affected by Mr. Bolm or his work, could also contribute to the website.
Rosalind said to me one day, "One thing you can say about all of us (who studied with Mr. Bolm), is that we all became successful teachers. We turned out alot of people who are busy teaching and turning out more people, and performing. We all were performers of some special order, and we all had children and, omitting the tragedies and challenges that life brings to everyone, none of us became criminals, and as far as I know none of us raised criminals. I'm sure some of that came from the extraordinatory aura that Mr. Bolm had, that we were showered with. It has something to do with not having a tiny perspective on the art form, but a broad, deep, and almost religious respect for the form. The thing is that, Mr. Bolm wasn't just interested in ballet per se. He was interested in what was behind dance. And I think he sparked that interest in all of the people that were with him for any amount of time. That's my opinion."
I'd love to hear from you if you've known Rosalind, or if you have been affected by Mr. Bolm or his work. Either send me an email or post to our blog: www.AdolphBolm.com/blog.
Click below to listen to Rosalind talk about her life in her own voice.